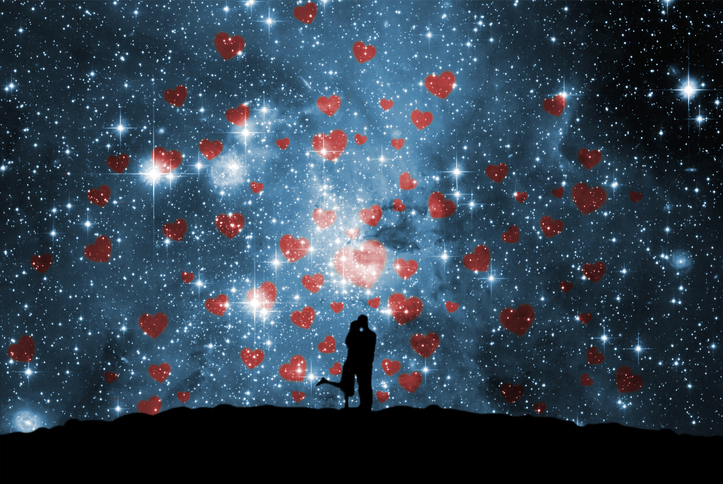 Now is the ideal time to take a peek into your romantic future. Will it be love and laughter or tantrums and tears for you this year? Read on to unlock your love secrets, which have been written in the stars.
Aries
March 21 - April 19
Love is looking rosy for you this year. It appears that longstanding arguments will come to a peaceful conclusion. Your relationship will move into a calmer phase. Big changes are on the horizon, but they will be positive. Perhaps a wedding or a baby? Single Arians have the chance to meet a new person who they connect with on a deep level. It will be friendship first but with the potential to turn romantic.
Taurus
April 20 - May 20
You Taurus bulls are feeling all wild and impulsive at the start of this new year. While this might be good for finding new career opportunities, it's not such good news for your relationship. Getting involved in other people's problems will put a strain on personal partnerships. Your lover may feel neglected or uncomfortable with your new friends. Be understanding of your partner's feelings. Focus your energy on maintaining a happy home life.
Gemini
May 21 - June 20
The year starts quietly for Gemini on the romance front. But all that is set to change by June, when an attractive new person appears on the scene. If you are in a happy relationship, be sure to avoid the allure of this new person. If you are single - then go for it! Although bear in mind the best time to meet somebody for a long-term commitment is not June, but from mid-September to mid-November. Watch out for April, which is a hotspot for potential relationship conflict, so tread tactfully around this time.
Cancer
June 21 - July 22
Your relationship is set to get stronger this year. You will come to a deeper understanding of what makes your partner tick. Keeping in contact by social media when you are apart helps solidify your bond. Only one hitch on the horizon comes later in the year, when a strong connection at work could turn into an affair if you let it. Single Cancerians should go against their naturally shy nature and say 'yes' to every party invitation to find a potential romance.
Leo
July 23 - August 22
This year offers you the opportunity to deepen your romantic relationship in a big way. Plan lots of outings with your love so you can learn more about each other's likes and dislikes. Love and affection will be here in bucket loads for you - as long as you learn to control that temper of yours. Normally cool and collected, when you do get angry it can be volcanic. Avoid raising your voice or losing your temper with your loved one or you will be the loser when they leave you.
Virgo
August 23- September 22
Love appears from unexpected sources for single Virgos this year. You are at your most charming at the start of this year and will be attracting lots of admirers. But it's an existing friendship connection that has the greatest potential to turn into a love match. Virgos in a relationship should experience romantic harmony for most of this year. But there's potential for a rough patch in July or August.
Libra
September 23 - October 22
For Librans in a relationship, this year is about strengthening those bonds of love. Your love connection could go off the scale fantastic if you do. And you'll achieve great things together. A damaged relationship can be healed and revived this year, if you put the effort into it. For singles, it's all about being bold and confessing your love to the person you have a crush on. Sure, you might get rejected, but you'll never know unless you ask.
Scorpio
October 23 - November 21
Things have been tense. So communication is the key to getting to the bottom of the issues. Calm discussion now will help you avoid the arguments that might otherwise happen from June to September. Don't keep bringing up the past, instead see how you can both best move forward. Don't be so busy at work that you have no time for your partner or you could see your relationship end this year. Single Scorpios may find romance quickly this year, but fledgling relationships will come under strain during that tricky time of June to September.
Sagittarius
November 22 - December 21
Impatient Sagittarius will have to learn to be calm and very Zen this year to keep their relationship on track. Control your temper to reap the benefits of a more harmonious partnership. The months of April to June could be particular flashpoints. But if you work as a team with your lover, you'll easily overcome any obstacles life throws your way. Single Sagittarians should find love early this year. These new connections could be good but there's also the possibility of someone who is not good for you making an appearance on your romantic radar. So think with your head, not your heart.
Capricorn
December 22 – January 19
You have been waiting, planning and procrastinating - in typical Capricorn style - about when to take your relationship to the next level. The time is right now! The year of 2019 is well-starred for a Capricorn marriage. So what are you waiting for?! If you single Capricorns get caught up in the romantic flush of a new relationship this year, then don't neglect other areas of your life, especially your career. It's not something you'd ever normally do but the stars say if you might this year. So don't!
Aquarius
January 20 - February 18
If you're in a relationship you're going to be in your own little bubble of love this year. Quite sickening for everyone else but lovely for you! Just make sure to keep your ego under control or this will cause rows. Single Aquarians may find love through travel in 2019. Visiting exotic locations will open your eyes to new ways of thinking. And you might just find your soulmate while you're there!
Pisces
February 19 - March 20
The first part of the year is calm on the relationship front, then a change comes. From early March there's potential for you to hit a relationship speed bump, which brings conflict into your partnership. So tread carefully and avoid drama to prevent a break-up. If you get past this hitch, then your relationship will blossom throughout the rest of the year. Single Pisceans should avoid romantic entanglements until mid-April, when there's the potential to meet a positive new person.