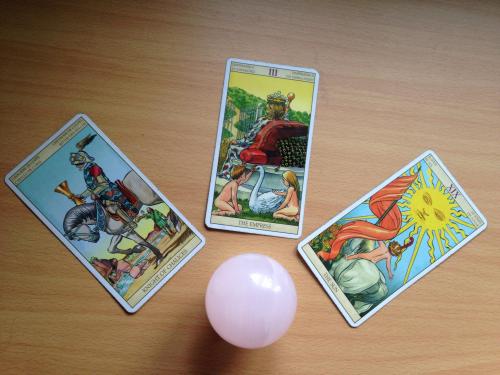 offline
PIN: 4661
Login or Regsiter to add Jennalyn to your Favourites
More Readers
Psychic Reader Profile: Jennalyn
Tarot Cards
Do you want a reading from someone caring, empathetic and non-judgemental? I have over five years' experience in reading tarot cards, specialising in love and relationships which includes delving into the feelings of your love interest and helping you best move forward in your current relationship status. I go into much detail with my readings and I am able to analyse the cards with a great amount of depth, with the ultimate goal of making sure you feel comfortable, ensuring that together we can work out the best strategy for you to deal with your situation. You can rest assured that I will provide both a detailed reading and a sympathetic ear. It is important to me that my sitters feel comfortable in my company and to go away feeling that they have been soothed by my readings or have found a solution to the issue that has been on their minds.
My readings have been described as uncannily accurate by my sitters to date. Even I am quite astonished at times! But I have learned to harness my gift so that I may be best equipped to help others.
Sometimes it can cause us great anxiety or concern when we have a problem that plagues us
What do you like most about giving readings to clients?
Helping people with their anxieties, queries or curiosities is the most rewarding thing about reading for a client. I especially like to analyse the situation with them as this can lead to new insights and revelations that the client may find very beneficial for them.
How would you say you are typical of your star sign?
I would say the Libran side of me represents the harmonious aspect of my character; and typical to my sign, I have a strong sense of fairness and justice. I feel this need for fairness and balance is very prominent in my readings. I will always be able to see every side of the situation and analyse different angles.
When do you remember being first aware of your gift?
I have been aware of my psychic abilities since a young age, which included seeing and communicating with spirits, having prophetic dreams (such as knowing when a loved one was in danger), seeing people's auras and being aware of bad vibes from a person who was not entirely trustworthy or honest. I have always been able to feel the feelings of others. My tarot gift came to me five years ago when I picked up a pack of cards in the store. It evolved from there. I first started reading for myself and then for others. It was not long before people started coming to me for readings!
I am also a great fan of crystals. :)
What is your most memorable experience with a client?
I read for a lady who had come over from South Korea asking for a general reading. It soon became apparent to me in the cards that she was experiencing problems with a love interest who was very much into her, though she didn't feel the same way as she was more focussed on her career. The lady burst into tears, both from shock and sadness, informing me I was spot on and she was unsure what to do about this man. This was quite an achievement as there was a significant language barrier, but we discussed it in great length and I referred to the cards to help her with the best move forward. By the end, she had a big beam on her face and I even ended up with an invitation to South Korea!
What other experiences or qualifications do you have that you feel compliment your work as a reader?
I also use a pendulum which connects to the spiritual world. As well as this, I deeply appreciate the use of crystals and am able to identify with them depending on the situation. At times, a crystal will pop into my mind, either for me or someone else, which could benefit whoever it is calling to.
What is the most important thing for a person to consider when they decide to have a psychic reading?
Try not to ask yes or no questions. The cards do not respond well to these types of questions. Open-ended questions such as "How does so and so feel about me?" or "What will be the result of my decision in this job?" are the best questions to ask the cards. Also, remember that the cards will very often tell you what you need to hear, not what you want to hear. It is possible to gain a great deal of information in the cards and to remain open-minded, as very often the cards will tell us things that may not have even occurred to us previously, but as time unravels it becomes clear why our guides wanted us to know it.
Reader Calendar
This reader has indicated they will be logging on for us at the following times:
How to
1) Choose the gifted Psychic you wish to speak to
2) Call 1-855-280-3238 and enter their 4 digit pin
3) Make your secure card payment
4) You will then be connected to your chosen Psychic
Pay by Credit/Debit Card
1-855-280-3238
When prompted, enter pin 4661
Credit/Debit cards: $40 for 20 mins, $80 for 40 mins & $120 for 60 min. T&C apply. Money back guarantee (see help pages). 18+. You must have the bill payers permission. Entertainment purposes. Service provided by RJ Media LLP. We may send free promotional messages. Customer services 1-855-773-3293